sunshine republic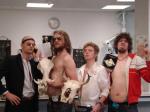 Music
Let's Have Sex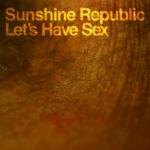 Released online in 2010, Let's Have Sex is a nightmare of crumbing frequencies and extended improvisations, recorded at head-splitting volume on the factory floor with two mics and a tape machine. The whole record is at bandcamp to be had for free.
Ransack Your Mansack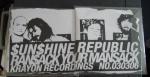 Sunshine Republic - Ransack Your Mansack
CD
KR 030306
Sunshine Republic take 17 plus minutes to construct a wandering haze of wailing feedback, woozy vocals and assorted grrumble and clatter, eventually stumbling across the remains of a lurching, semi retarded groove, melting down inside a shitlined cave of intense amplifier chunder and blistered metal droning, hollowed out by righteous caveman sloth-stomp, get your stereo dimed and break out the beers, this will put you in the ground. £5+postage from Krayon.
Beer Crew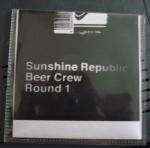 Sunshine Republic Beer Crew Round One
Exclusive Beer Club
KR 030205
$un$hine republic's stupidest idea yet. If you donate money into their beer fund they'll send you cd-rs and stuff you won't be able to get at shows, unless you bring them a 6 pack of stripe. 2nd of two editions.
sunshine republic / flatlands split 12

Sunshine Republic / Flatlands split 12" gray 180g vinyl
Superfi / Krayon Recordings
£5 from SuperFi Records
older jams
Older recordings from the days of actual riffs and toe-tapping time signatures...some are still available from Krayon.
Images